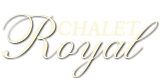 Welcome to Arabba, in the heart of Dolomites, the Family de Martin/Costa is pleased to host you in their Chalet Royal.


Chalet Royal is an old "Tabiá", a typical mountain style cottage built of wood that was entirely renovated in 2009.
The Chalet is located in the heart of Arabba, 50 meters away from the slopes that lead to Burz Mountain, Porta Vescovo and the famous Sella Ronda Sky Carousel.
The "Tabiá" has 2 apartments which are rented on self-catering short term basis, and bear all the comforts of a modern dwelling.
Private parking space is available outside.
If your dream is to spend unforgettable holidays in the heart of the Dolomites, this is the right place…
Chalet Royal will provide you with magic moments thanks to its quiet and sunny location in the heart of Arabba, which is a pearl set in one of the most beautiful mountain scenarios of the world.
From Arabba you can start your Sella Ronda tour on skis, or in the summer you may cycle, walk or drive through and around the four famous Ladin Valleys.
If you like it high, you can easily reach the Pordoi Pass from here, and from there within accessible distance walk to the top of Piz Boe (3152 mt.) or pay a visit to the world famous Marmolada, with its charming glacier.
In and around Arabba, you will have the opportunity to enjoy many other sporting and outdoor activities alone or with a professional instructor: tennis, golf (the golf course is actually just a few kilometres away), excursions, cycling, fishing and more. Moreover, you will also have the chance to take part in the traditional activities and celebrations organized by the local community.
Our mid summer day flower fest is, for example, a prime chance to taste the joyful spirit and creativity of our citizens.
Our pride for the summer season is nevertheless the network of perfectly marked paths that will lead you everywhere through the wonderful landscape that makes the Dolomites so special. You will find numerous delightful mountain huts in all directions and you will reach peaks where nature is still totally unspoilt.
Chalet Royal - Via Mesdi 1 - 32020 Arabba (BL) - Dolomiti - Tel. +39 0436 79293 - Fax +39 0436 780086 - E-mail:
info@royal-arabba.it