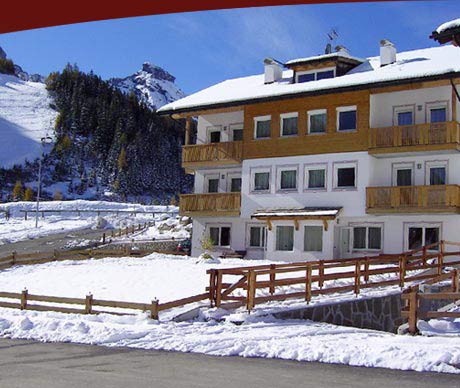 Welcome to the Apartments Alpenroyal in Arabba. The Dolomites in winter time: Col di Lana, Marmolada &... more winter sports!!!

Arabba, in the Heart of the Dolomites.

A Mountain Resort in a quiet Village location.
Beautiful scenery, high Mountain passes and stunning forest walks.

With its 62 Km of downhill ski runs, Arabba is really a winter paradise for alpine skiing lovers, who can also easily reach other districts like Marmolada glacier, Lagazuoi and Cortina.
Arabba's fortunate position makes it a privileged point of access to the Sella Ronda, a unique skiing route through the Four Passes: Campolongo, Gardena, Sella, Pordoi.
Arabba guarantees snow throughout the whole winter season and enjoys one of the best network of lifts in the World.

For People who Love Winter all mountain sports are available - Sking/ Snowboard/ Ice-skaking / Snow-sledging tours and excursions with the "Ciaspe", (snow shoes).

Apartments Alpenroyal:
If you want to spend fabulous vacations in the heart of the Dolomites, the Alpenroyal Apartments will offer you unforgettable moments.

Apartments Alpenroyal, star House in Alpine style at a unique spot on a sunny slope.

The position of the apartments offers the sight on the majestic Portavescovo.
The house is situated 500 mt. from the village centre in direction Passo Pordoi in a tranquil and sunny position, and in between two of the main slopes, the skirun of Portavescovo-Pordoi and Burz - Campolongo; 70 mt. from both.

Alpenroyal Apartments - Via Precumon 40 - 32020 Arabba (BL) - Dolomiti - Tel. +39 0436 79293 - Fax +39 0436 780086 - E-mail:
info@royal-arabba.it